Welcome to the 7th Annual DFW Solar Tour
You're Invited...
The DFW Solar Tour, on Saturday, October 1st, 2016 is a FREE PUBLIC OPEN HOUSE
Be sure to join us for the 2016 DFW Solar Tour on Sat. Oct. 1st. We will be updating the site as the list of new tour locations continue to grow. If you'd like to help with the tour, be sure to visit our Volunteer page to find out about adding your home to the tour or about how you can volunteer to help make the tour a success!
About the DFW Solar Tour
The tour enables people to learn how their neighbors – homeowners and businesses alike – are using solar energy, wind energy, energy efficiency, and other sustainable technologies to save money and consume less of our natural resources. The strategies and techniques on display during this year's tour range from things as simple and easy as changing to LED light bulbs and selecting more efficient appliances, to cutting-edge, ultra-efficient eco-homes and businesses that are generating as much or more energy than they consume!
Most sites are open between 10 am and 4 pm (check individual sites for exceptions, non-standard tour times are indicated in red). Please don't arrive early or late or come on any day other than the Tour date. Homeowners or NTREG volunteers will be available at each site to provide information, share experiences and answer questions. Visit our Locations page and follow the links for each host site to see its visiting hours along with maps, directions, and a brief property description and photos provided by the host site.
Attend the Solar Tour to:
Meet people who have renewable energy installations, learn why they did it, the process, what they love about it and lessons learned.
Learn about the different technologies and see how they are installed
Hear about how different renewable energy technologies can work together
Discover that it is possible to live off-grid using renewable energy
Find out all of the ways you can use renewable energy to power your life
How to plan your Solar Tour day
The DFW Solar Tour is a self guided, self paced tour of homes and business all around the DFW Metroplex. Visit as many host sites as you would like! There is no way to visit them all, so planning ahead of time is important. Visit the Tour Locations page to find all the locations available for you to visit, and all the feature to see at each site!
Attend the tour and get all of your renewable energy questions answered!
But until the tour, please follow these links to:
"Together, we can drive the momentum of the world's largest grassroots solar event and demonstrate that the benefits of solar energy and its energy-efficiency cousins have not only hit the mainstream, they're also here to stay."
Volunteers are needed to make the Solar Home Tour a Success!
In the news...
Learn how to green your home from a real estate expert!
New to the Tour this year are green building educational presentations by Beth Johnson, with Keller Williams Realty. Beth is the first realtor on the planet to earn the "Quadruple Crown" of green building credentials and will present throughout the day, at the Plano Environmental Education Center. Also presenting is Larry Howe with Plano Solar Advocates. Larry will present "Solar 101", which covers key topics when considering solar energy systems for your home.
Built in 2010, the EEC is one of Plano's first green buildings certified as LEED Platinum. Come see this innovative tour site and learn how to green your home from a real estate expert!
Time
Presentation
Speaker
9:30 a.m.
Solar 101
Larry Howe
10 a.m.
"Green Homes are Better for People, Pocketbook and Planet" - new construction
Beth Johnson
Keller Williams Realty
11 a.m.
Self-guided tours of the EEC




Noon
"Greening Your Home for Yourself and Resale" - retrofitting existing homes

Beth Johnson


Keller Williams Realty

1 p.m.
"Green Homes are Better for People, Pocketbook and Planet" - new construction


Beth Johnson


Keller Williams Realty

2:30 p.m.
Solar 101


Larry Howe



3 p.m.
"Greening Your Home for Yourself and Resale" - retrofitting existing homes

Beth Johnson
Keller Williams Realty
Want a chance to Win? Just come on the tour!
Brought to you by IKEA, one of our Kilowatt sponsors, are chances to win valuable prizes! Tour participants who complete guest sign-in at host sites this year are eligible for prize drawings including chances to win (one per person) IKEA gift certificates (2 - $100 value, 1 - $50 value). Prize drawings will be announced at the Solar Tour Host Appreciation party on Saturday Oct 8, 2016. Eligible entrants do not need to be present to win!
Vote for the nominees!
The DFW Solar Tour, NTREG's Dan Lepinski, and Keller William's realtor Beth Johnson have all been nominated for the 2016 Green Source DFW Sustainable Leadership awards! Please follow this link to vote for these talented individuals and groups who help educate and support sustainable efforts across the Metroplex. Voting is open now and votes can be submitted once daily, so go vote and vote often!
http://www.greensourcedfw.org/articles/green-source-dfw-sustainable-leadership-awards-vote-now-0
The awards ceremony will be held a the Dallas Arboretum on November 3, 2016, tickets are available here:
https://www.eventbrite.com/e/2016-green-source-dfw-sustainable-leadership-awards-tickets-26970178530
Have you ever wanted to see an Electric Vehicle? Talk to its owner?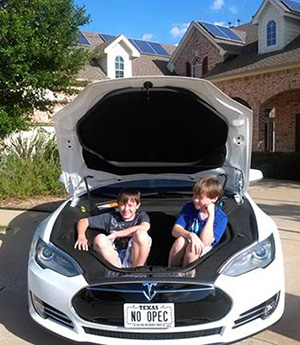 The DFW Solar Tour has you covered! Many of our Host Locations will have EVs and drivers ready to tell you all about them. See the 2016 Solar Tour Quick Guide on the Tour Locations page to learn which locations have what kind of EV.
The City of Plano proclaims Oct. 1, 2016 "DFW Solar Tour Day"!
Mayor Harry LaRosiliere, on behalf of the Plano City Council has proclaimed Saturday, October 1 as DFW Solar Tour Day in Plano. Said Mayor LaRosiliere, "I encourage all citizens to join me and the Plano City Council in taking the Tour and learning how to maintain a healthy environment through the use of renewable energy."
In the above photo left to right are: Robert Litwins, Plano Solar Advocates volunteer and DFW Solar Tour Leader; Larry Howe, Plano Solar Advocates volunteer; and Harry LaRosiliere, Plano Mayor.
To see the full text of the Proclamation, click on it to view it larger.