Welcome to the 8th Annual DFW Solar Tour
You're Invited...
The DFW Solar Tour, on Saturday, October 7th, 2017 is a FREE PUBLIC OPEN HOUSE
Be sure to join us for the 2017 DFW Solar Tour on Sat. Oct. 7th. Here are some of the many things you can do!
We will be updating the site as the list of new tour locations continue to grow. If you'd like to help with the tour, be sure to visit our Volunteer page to find out about adding your home to the tour or about how you can volunteer to help make the tour a success!
About the DFW Solar Tour
The tour enables people to learn how their neighbors – homeowners and businesses alike – are using solar energy, wind energy, energy efficiency, and other sustainable technologies to save money and consume less of our natural resources. The strategies and techniques on display during this year's tour range from things as simple and easy as changing to LED light bulbs and selecting more efficient appliances, to cutting-edge, ultra-efficient eco-homes and businesses that are generating as much or more energy than they consume!
Based on positive feedback from last years educational presentations at the Plano Environmental Education Center, there will be additional learning opportunities at "Education Centers" added to the Tour this year, with a range of topics to help the public understand the basics of solar energy & storage, energy efficiency, and sustainable practices.
Most sites are open between 10 am and 4 pm (check individual sites for exceptions, non-standard tour times are indicated in red). Please don't arrive early or late or come on any day other than the Tour date. Homeowners or NTREG volunteers will be available at each site to provide information, share experiences and answer questions. Visit our Locations page and follow the links for each host site to see its visiting hours along with maps, directions, and a brief property description and photos provided by the host site.
Attend the Solar Tour to:
Meet people who have renewable energy installations, learn why they did it, the process, what they love about it and lessons learned.
Learn about the different technologies and see how they are installed
Hear about how different renewable energy technologies can work together
Discover that it is possible to live off-grid using renewable energy
Find out all of the ways you can use renewable energy to power your life
How to plan your Solar Tour day
The DFW Solar Tour is a self guided, self paced tour of homes and business all around the DFW Metroplex. Visit as many host sites as you would like! There is no way to visit them all, so planning ahead of time is important. Visit the Tour Locations page to find all the locations available for you to visit, and all the feature to see at each site!
Attend the tour and get all of your renewable energy questions answered!
But until the tour, please follow these links to:
"Together, we can drive the momentum of the world's largest grassroots solar event and demonstrate that the benefits of solar energy and its energy-efficiency cousins have not only hit the mainstream, they're also here to stay."
Volunteers are needed to make the Solar Home Tour a Success!
In the news...
New to the tour this year! Come see the Winston School Solar Car at the Plano Environmental Education Center from 10am-4pm!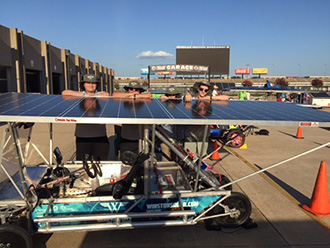 The Winston School of Dallas has an elite program "Solar Science Academy" for Winston students interested in an in-depth, hands-on understanding of STEM – science, technology, engineering, math and alternative energy. Solar Science participants experience building, maintaining, and driving a solar car, participate in solar car races on a closed track and on the open road in a cross-country race, and learn business skills, and team building.
Visit the Plano Environmental Education Center page to learn more!
The Soulgood food truck will be onsite for a limited time from 12:00 noon to 2:00 pm. Come enjoy organic, locally sourced plant-based fast food! Taco's, Po Boy's, Burger's, Dog's are just a few of the delicious items on the menu.