Welcome to the 5th Annual DFW Solar Tour
You're Invited...
The DFW Solar Tour, on Saturday, October 4th, 2014 is a FREE PUBLIC OPEN HOUSE
The tour enables people to learn how their neighbors – homeowners and businesses alike – are using solar energy, wind energy, energy efficiency, and other sustainable technologies to save money and consume less of our natural resources. The strategies and techniques on display during this year's tour range from things as simple and easy as changing to LED light bulbs and selecting more efficient appliances, to cutting-edge, ultra-efficient eco-homes and businesses that are generating as much or more energy than they consume!
Most sites are open between 10 am and 4 pm (check individual sites for exceptions, non-standard tour times are indicated in red). Homeowners or NTREG volunteers will be available at each site to provide information, share experiences and answer questions. Visit our Locations page and follow the links for each host site to see its visiting hours along with maps, directions, and a brief property description and photos provided by the host site.
Attend the Solar Tour to:
Meet people who have renewable energy installations, learn why they did it, the process, what they love about it and lessons learned.
Learn about the different technologies and see how they are installed
Hear about how different renewable energy technologies can work together
Discover that it is possible to live off-grid using renewable energy
Find out all of the ways you can use renewable energy to power your life
Attend the tour and get all of your renewable energy questions answered!
But until the tour, please follow these links to:
"Together, we can drive the momentum of the world's largest grassroots solar event and demonstrate that the benefits of solar energy and its energy-efficiency cousins have not only hit the mainstream, they're also here to stay."
Volunteers are needed to make the Solar Home Tour a Success!
In the news...
Longtime North Texas Renewable Energy Group member featured on GreenSourceDFW.org
"More than 50 solar-powered homes along with 20-plus electric and hybrid vehicles will be showcased at the DFW Solar Home Tour this year. " Read the full article on the GreenSourceDFW.org web site.
Listen to the DFW Solar Tour segment featured on House Talk Today

Listen to an interview with Rick Bollar on House Talk Today for an overview of the DFW Solar Tour. In about 8 minutes you can find out about some highlights of the tour and get some tips on the best way to plan your day. Just follow the link above, or save the .mp3 file to listen off line.
Get up close and personal with Electric Vehicles on the tour
Have you ever wanted to see an Electric Vehicle? Talk to its owner? Maybe even drive one? The DFW Solar Tour, along with our friends at the North Texas Electric Auto Association and DFW Clean Cities/Electric Vehicles North Texas have you covered! Many of our Host Locations will have EVs and drivers ready to tell you all about them. Would you like to experience a Tesla Model S? Visit the Electric Vehicles page for locations and details!
Enjoy the Tour from your bicycle
Would you like enjoy the Tour in a true no-carbon, no-guilt way with others? Take your road bike to Grapevine and join our friends at Mad Duck Sports and visit four Southlake and Grapevine homes. Meet at Mad Duck (721 E. Northwest Hwy Grapevine TX 76051) at 2pm. More details: http://conta.cc/Y9DfN6
City of Southlake Recognizes Saturday, October 4 as DFW Solar Tour Day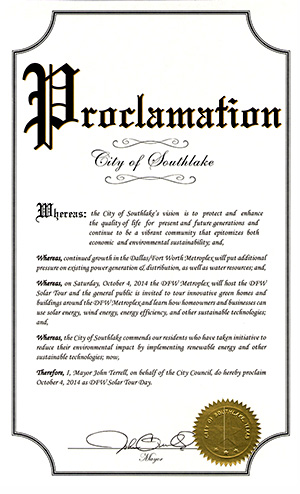 Mayor John Terrell, on behalf of the Southlake City Council has proclaimed Saturday, October 4 as DFW Solar Tour Day. Said Mayor Terrell, "The City of Southlake's vision is to protect and enhance the quality of life for future generations and the City Council is pleased to recognize our residents who have reduced their environmental impact by implementing renewable energy and other sustainable technologies."
Read the full press release for more. You can also click on the Proclamation to see it larger.
The Town of Flower Mound proclaims Oct. 4, 2014 "DFW Solar Tour Day"!
Mayor Thomas E. Haden of Flower Mound issued the proclamation in a ceremony Sept. 18. Click the image below to see the Proclamation, or watch a video of the ceremony.