Lady Bird Johnson Middle School
3601 W. Pioneer Dr
Irving, TX 75061

Tour Hours:

2 formal tour times: 10am and 12 noon

Lady Bird Johnson Middle School, which opened August 2011, is the first net zero school in the State of Texas, the first net zero middle school in the country, and the largest net zero middle school in the country.

In simple terms, net zero means the building will produce as much energy as what it consumes from the electric grid over a 1-year period.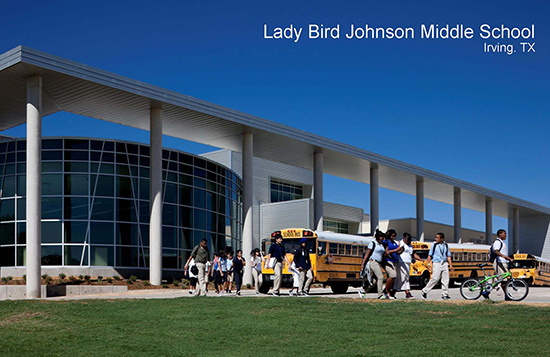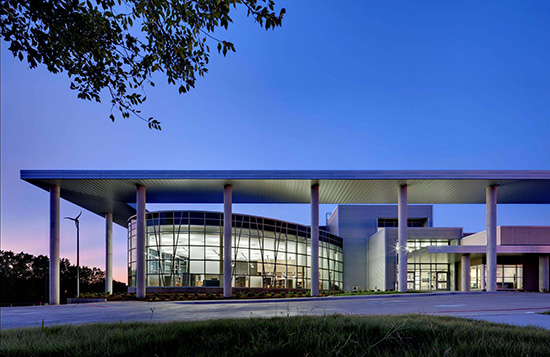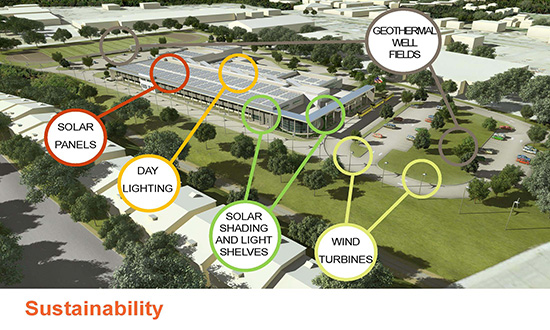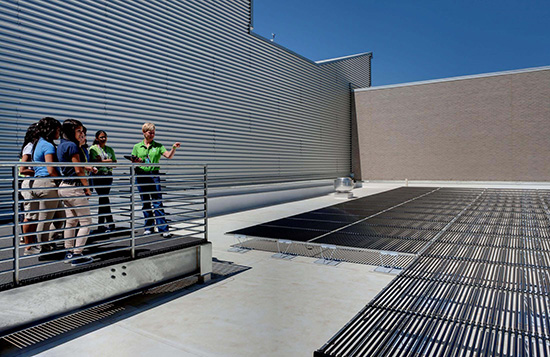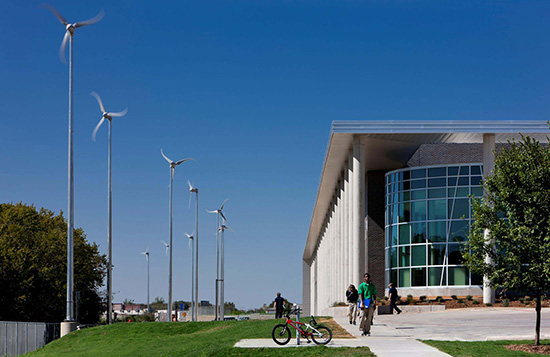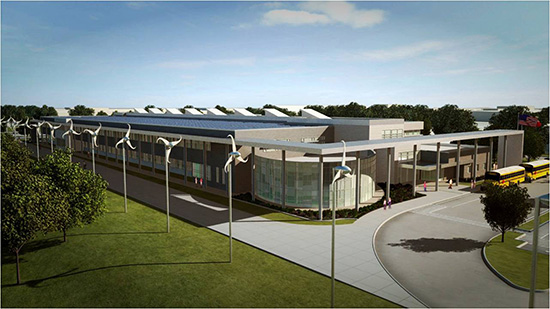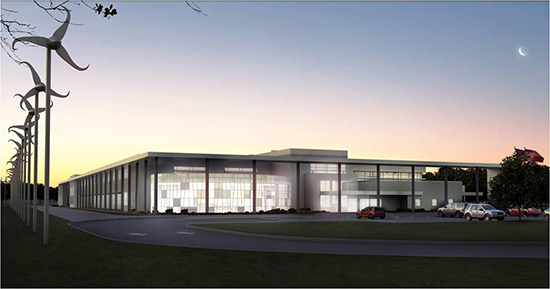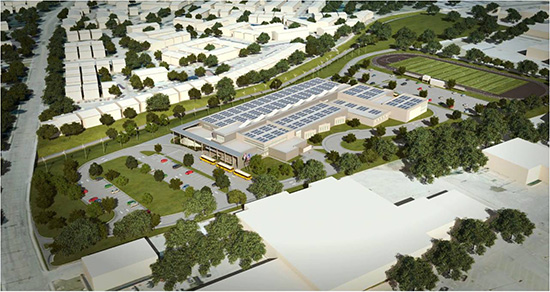 Photographs Courtesy of Corgan Associates, Inc.
Renewable energy features
Solar PV
kW: 600 kW
Installation Date: August 2011
Installer: GridPoint
Equipment
Approximately 300 kW of Solyndra panels and 300 kW of Kyocera panels
Retail Electric Provider
Hudson Energy
Wind Turbine
12 2.4 kW Skystream 3.7 wind turbines
Turbines have 12 ft rotor diameter on 45 foot high monopole towers
Energy Monitoring
Installation Date: August 2011
Installer: Siemens and Gridpoint
Equipment: 1 Siemens Apogee for energy management and Gridpoint dashboard for solar production and building consumption monitoring.
Green features
Certified LEED Gold by the USGBC
468 geothermal wells, each 250 feet deep are connected to 105 water-based heat pumps in the high efficiency heating and air conditioning system. The closed loop system uses water to transfer heat from the building to Earth in the summer months and from Earth to the building in the winter months, reducing HVAC energy use by 30%
Increased wall and roof insulation. Reflective roof to reduce cooling loads.
High efficiency window glazing
Solar shading provided by canopy on two sides of the building
Sensors adjust artificial light levels in classrooms and corridors based on available daylight and turn lights off when the room is unoccupied.
LED lighting
Xeriscape
Rainwater collection, grey water harvesting from athletics areas and collection of condensate.
Energy Star kitchen equipment
Pulper in cafeteria – students grind up compostable waste into reusable PULP which can be used in composting. This reduces the amount of garbage sent to local landfills by over 50%.
Here is a YouTube video tour of the school:

https://www.youtube.com/watch?v=Qkcu_l94Uv0
Host Comments
Lady Bird Johnson Middle School in Irving, Texas, is the first net-zero energy school in the state of Texas. At 152,250 square feet, the campus is the largest net-zero educational facility in the country.
This is the eighth middle school for the Irving Independent School District and serves approximately 980 students, grades six through eight. This facility incorporates energy reducing systems with goals to reduce energy consumption over 50 percent from the traditional school model through the use of geothermal HVAC, passive solar interior daylighting, an efficient building envelope, high efficiency kitchen and advanced controls systems monitoring. The school uses wireless laptop technologies for all computing needs to further reduce the electrical and HVAC loads in the building.
This building is designed as a teaching tool and resource for all of Irving ISD and is integrated into the science curriculum. Touch screens, holistic energy monitoring live display, interactive learning museum display in main corridor, solar array observation deck, Omni Room (the learning lab), and observation window into the inverter room are just some of features incorporated for teaching purposes.
The energy reductions within the facility are offset by the energy produced through solar and wind energies provided on the site and building roof. Solar panels provide the majority of the energy needs for the building and are designed so that over the course of a year, the energy produced equals the energy consumed, netting zero.
Lady Bird Johnson Middle School has hosted Educators, Administrators, Engineers, Public Officials, Architects and Facility Planners from countries around the world. Recent guests include Engineers from Japan and a Regional Member of the German Parliament and Cologne University Professor from Germany.